Forest Soul Gathering III
Barragem do Alto Rabagao, Montalegre, Vila Real.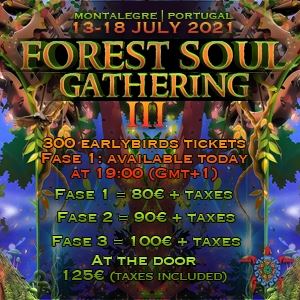 Under 14s must be accompanied by an adult. We cannot issue refunds to under 14s who are not accompanied by an adult.
More information about Forest Soul Gathering III tickets
Forest Soul Gathering is back for its 3rd Edition. It has been a long journey and 4 years since the first magical gathering in the Barroso region in Portugal.
This edition comes in a year of intense transitions, mutations, evolutions in our Blue Planet … and the Druid has Called for....SYMBIOSIS.
From the 6th to the 11th of October 2021, our gathering wants to express a desire to feel more symbiosis between us Humans, and our natural habitat, our food, our oxygen, our water, all our essential needs, based on all kinds of life on Earth.
FSG was created to emphasize those vital symbiosis and inter-connections, but also between Humans and Humans.
During 7 days and 6 nights, we call for peace & respect, we call for love expression, solidarity and unity, in an idyllic & mystical place, surrounded by autochthone nature & rich biodiversity, guided by the frequencies of our universal language, a music with no words but with a lot to express…
Come and join us for this unique gathering ...
More info VERY SOON!
CANCELATION & REFUNDS

- The festival can be cancelled due to a COVID negative evolution.
- If it is necessary and obligatory, the Festival will apply all the measures following DGS (General Health Direction).
- If the government doesn't authorize some nationalities in Portugal during the festival dates, tickets can be refunded with the presentation of a government declaration & ID/passport.
- Tickets are not refundable if the customer doesn't come to the Festival.
- You can exceptionally change the ticket holder, from 1º June to 15º June, only once.
- Refunds can be asked between 15th July and 31th August 2021
- All tickets are refundable if the festival is cancelled by the organizer or government.
- Festival tickets can be valid for a next edition in case of cancellation of this 2021 edition.
PROMOTER: Kunayala Productions